Silly idea...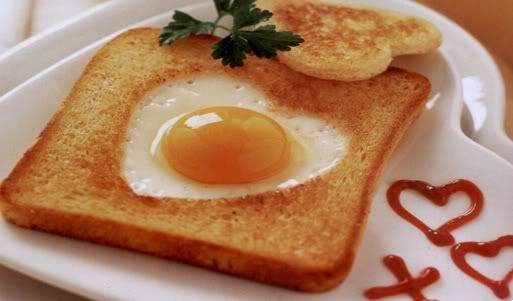 Ingredients
* 1 thick slice white bread
* 15g unsalted butter plus an extra knob
* 1 large egg
* salt and freshly ground black pepper

Method
1. Cut a hole in the centre of the bread using a heart-shaped cookie cutter about 8 cm (3 ") wide at its widest point.
2. Melt 15g of butter in a small frying pan and sauté the bread on one side until golden. Turn the bread over, melt the extra pat of butter in the heart-shaped cut out, break the egg into it, and season lightly. Cook covered for about 2 minutes until the egg is cooked
3. You can also dip the cut out heart in a little egg and sauté that too, to make French toast.